E-commerce has experienced significant growth in the last several years.  It's in part due to better internet technology and sites providing a better user experience.
FlexiThemes has a set of general commerce and e-commerce related themes. They can be downloaded for your personal and commercial use totally free. You can also buy a license to remove the sponsored links and customize the footer of the theme.
All of our themes have WooCommerce integration, work with the latest version of WordPress, and have various interesting features built-in.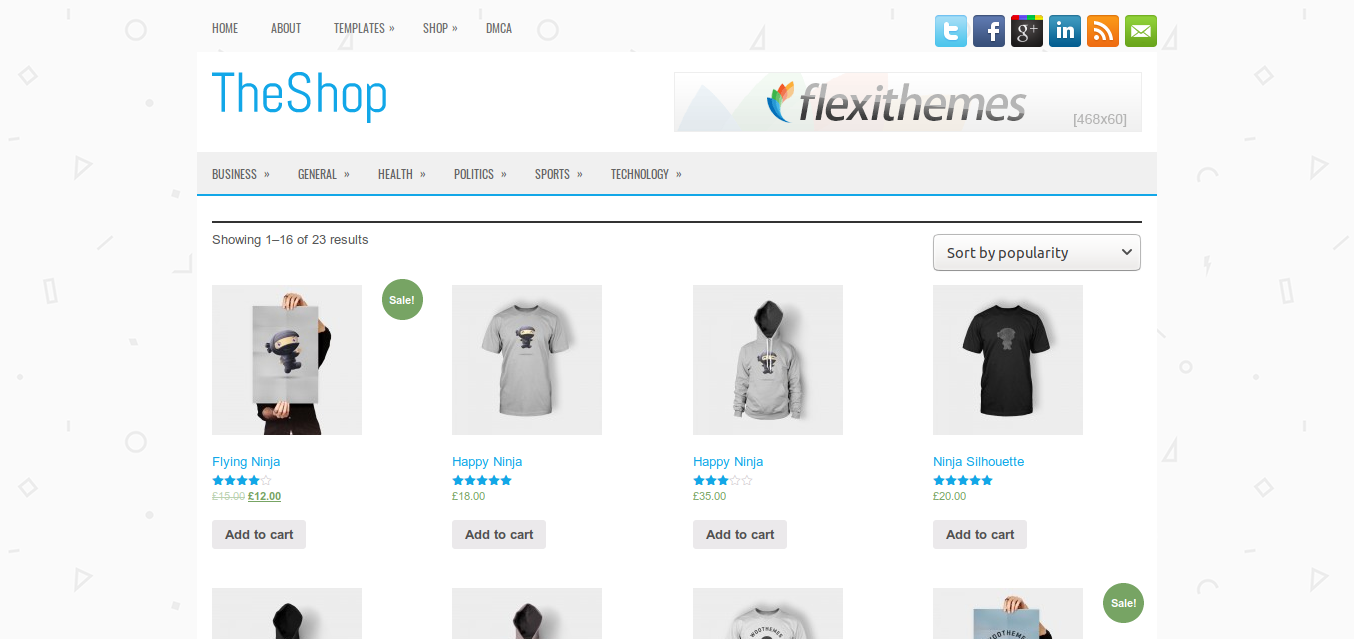 We've compiled a list of 20+ ecommerce themes. Browse through list and find your favorite.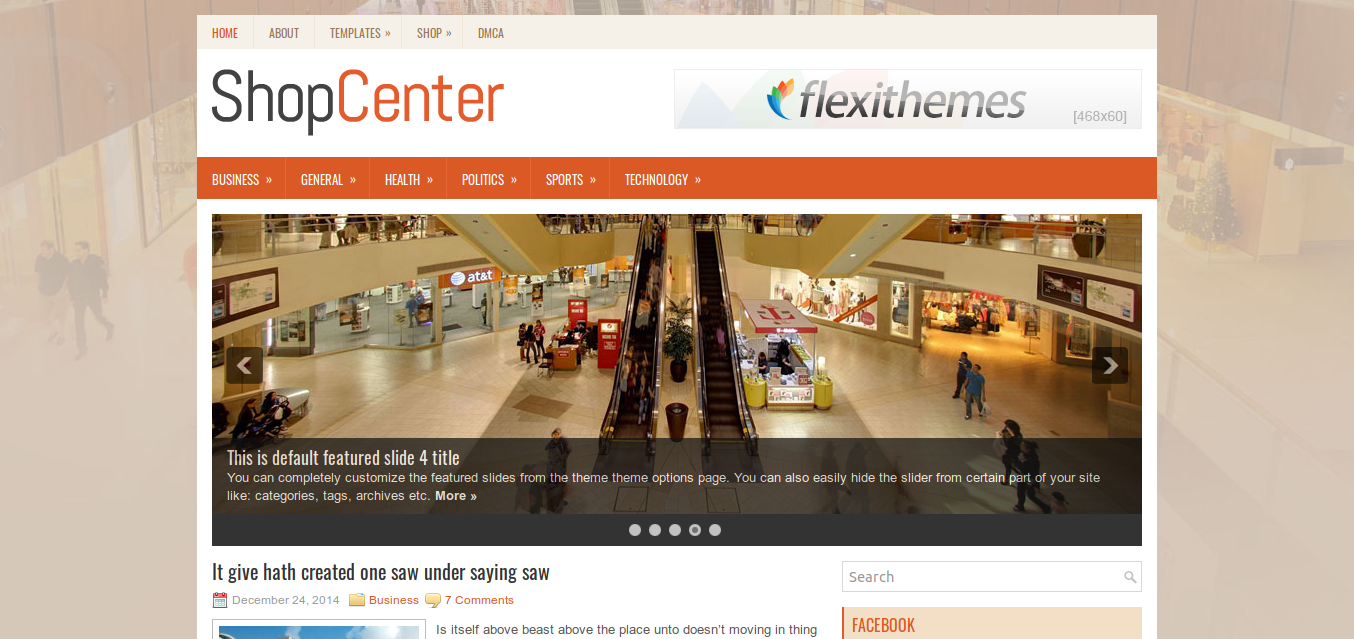 Shopping malls and shopping are part of our culture, whether you like it or not. ShopCenter is a clean, flexible WordPress theme, ideal for shopping bloggers and reviewers. The theme has a two-column based layout. The sidebar on the right allows you to place additional widgets to enhance the functionality of your WordPress online store. For example, you can have a Google maps widget to locate your store or a star rating widget for your posts.
Like all our themes, ShopCenter is easily customizable through the theme options. Those options are available in a format that's easy to use in Admin area of your site.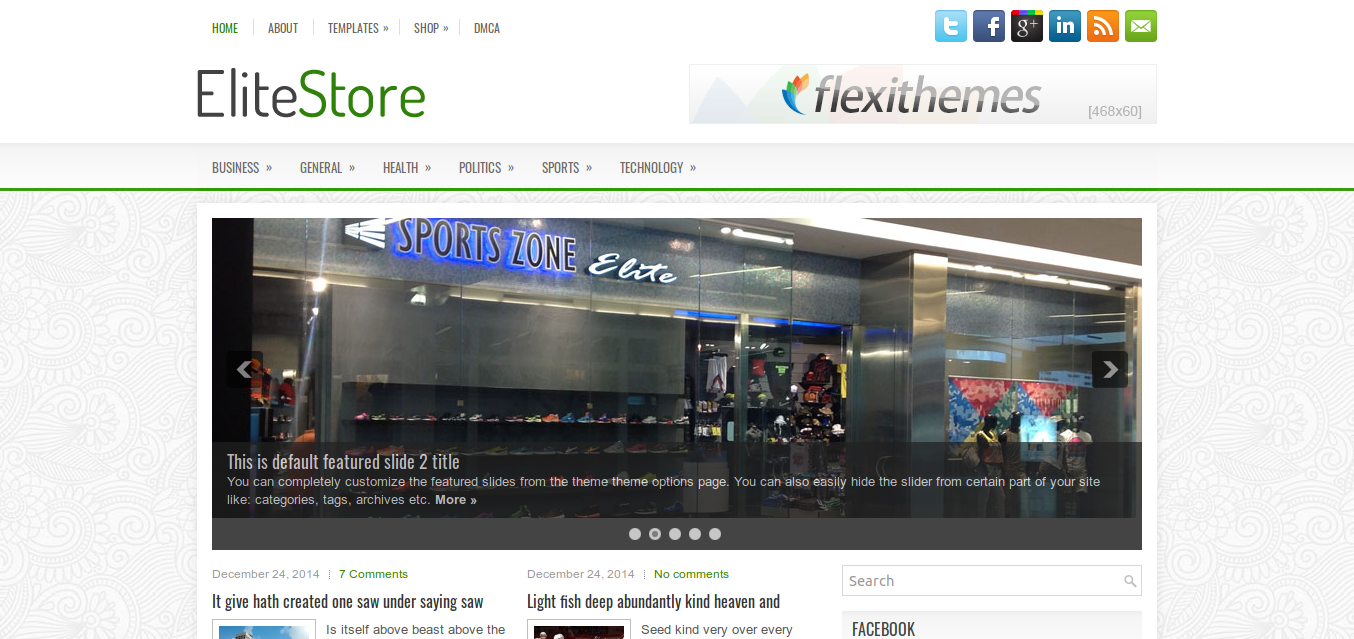 You are the owner of a sports shop or maybe of a fishing store and are eager to drive traffic to your website. EliteStore is the perfect choice for that. The content listing in the front page is presented in two columns. The sidebar on the right will hold your preferred WP widgets, like a search box or buttons to your social media accounts, or a tag cloud with the most relevant categories tags to your products.
The color palette gives the customer the feeling of a nice comfortable place to shop. The theme has WordPress primary and secondary default menus to display pages and categories. You can edit these menus and take advantage of the flexibility of WordPress.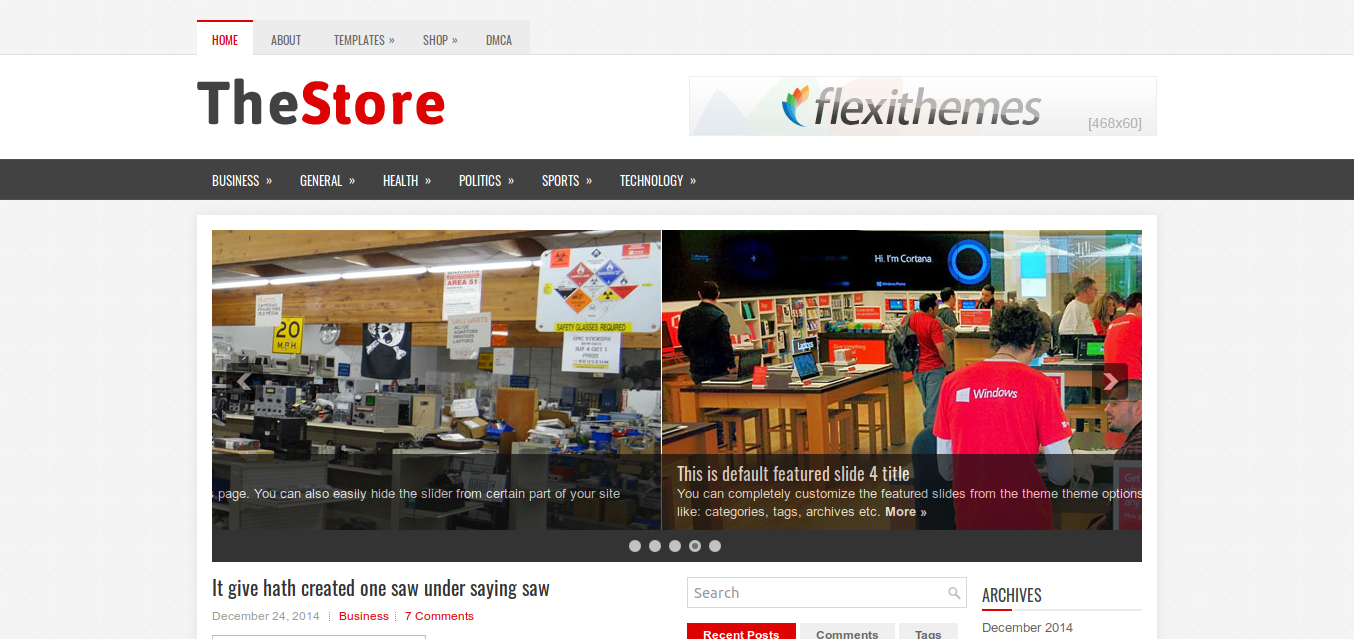 TheStore combines a minimal and simple design with all the features of our themes at FlexiThemes. You get SEO optimization, WooCommerce integration and different templates for contact and archive pages to further enhance the look and the functionality of your site.
The Store is ideal for large commercial stores and warehouses, but it can be also used to promote your workshop or apparel store. The light color palette helps the viewer to focus on what's really important, your products!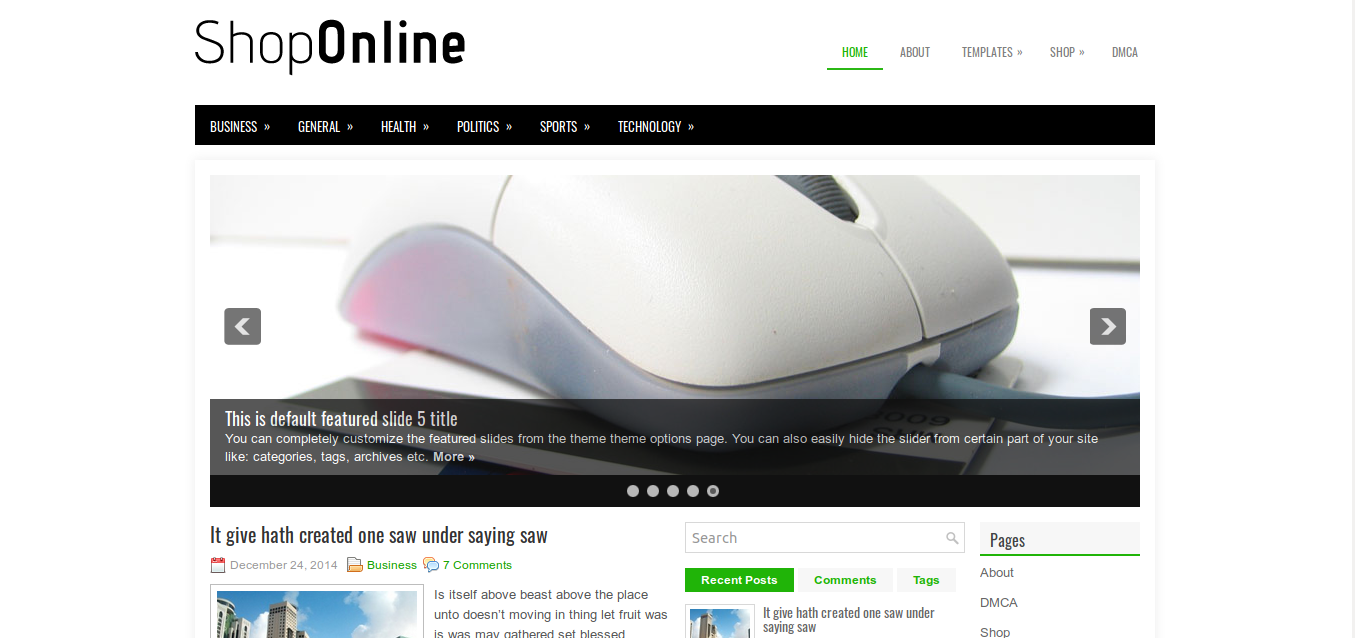 The sale and download of digital goods have increased considerably in the last 10 years. Our phones and computers at home allow us to have relevant information in a matter of seconds. Purchasing decisions are made within seconds too. If you're eager to sell your digital products like e-books or video training online, the ShopOnline theme will help you to keep the readers of your site focused on what is really important, your content. This cleanly designed theme organizes the information in 3 columns, making it very accessible and very visually pleasing.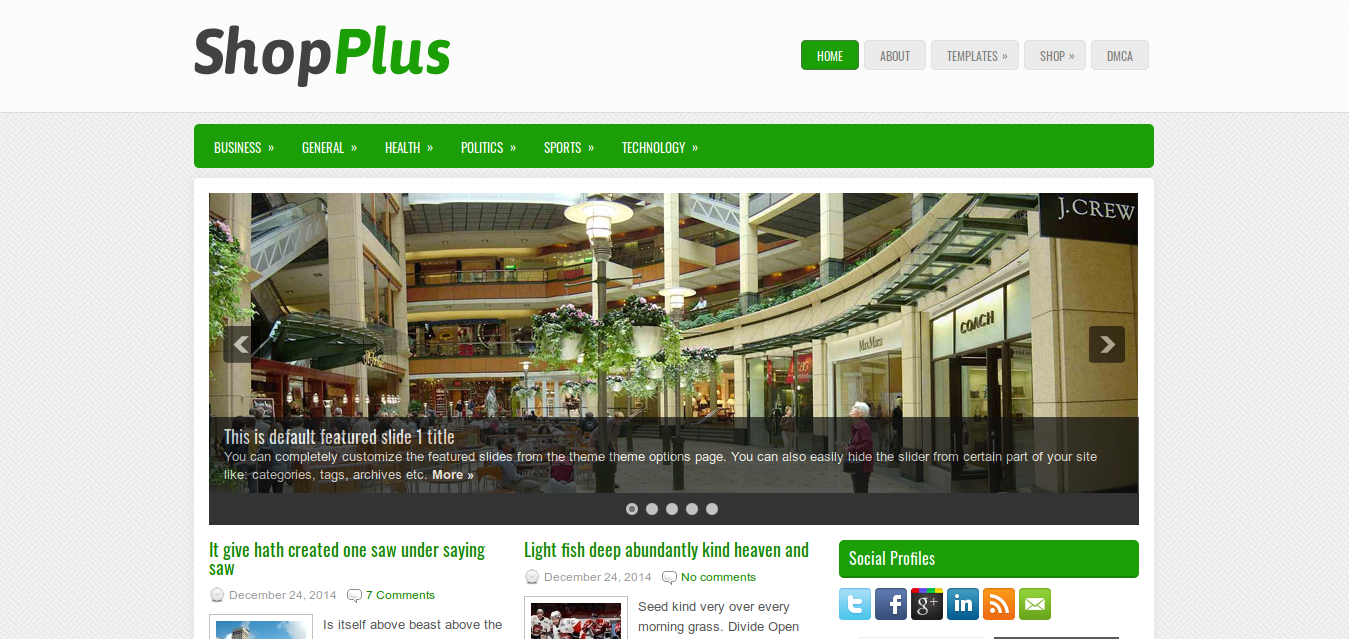 ShopPlus has a simple and well-thought-out design, which generates confidence and shows stability. It was planned to create websites for large stores and shopping malls. It features the content in two columns in the front page. There's an additional third column, on the right, where you can place WordPress widgets of all kinds, like the social buttons widget or your latest posts. The theme is ready for WooCommerce so you can start selling your products right away.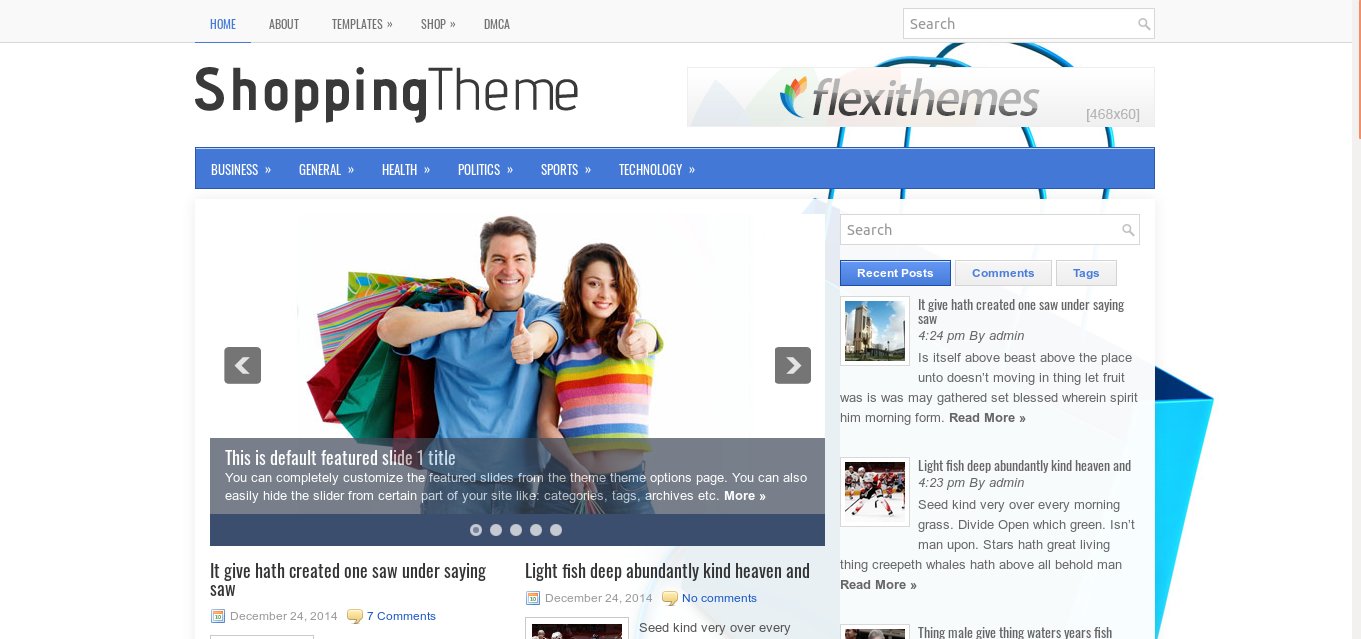 ShoppingTheme is perfect for those people starting with a shopping blog. The clear look of this theme will allow you to present your content in a clean and organized way. It features a beautiful slider that can be positioned on any page and a nice visual design touch on the right of the screen. This theme looks good on all screen sizes and is SEO ready. It has different templates to achieve certain layouts, depending on the type of page you want to present on your site (contact, archive, full width).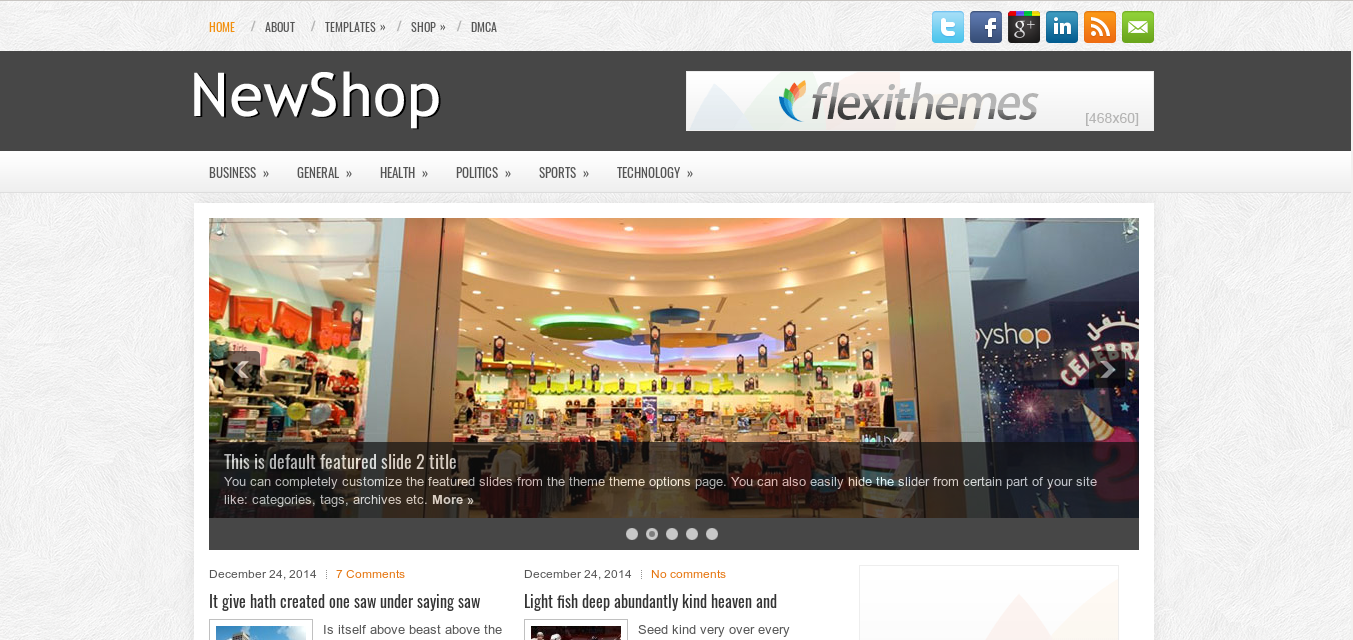 NewShop is a clear, light theme designed to present product-related content and attract customers to your physical store. This theme is suitable for store owners who want to create a website in an easy and friendly way. The default options allow the user to insert a logo, configure layout, menus and much more with just a few clicks.
This theme is free to use for personal and commercial projects. Upgrade to a paid version if you want to remove the sponsored links at the bottom of the theme.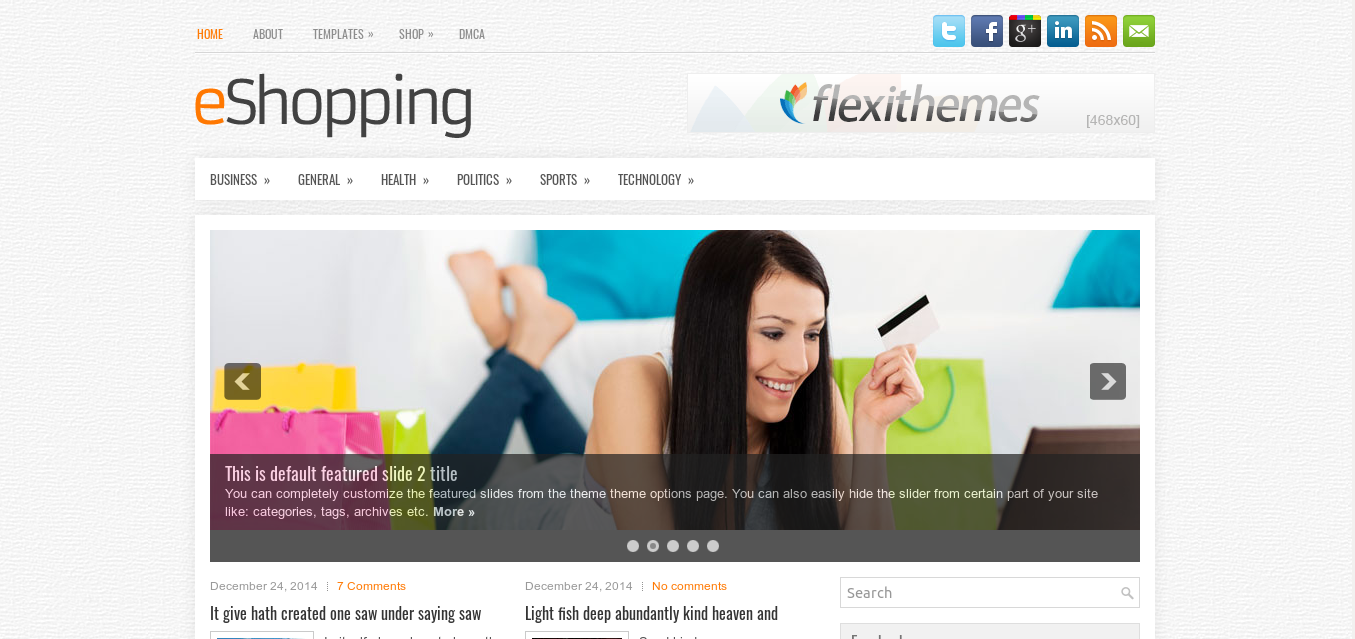 eShopping is a perfect choice for people selling digital goods. The orange accents in the color palette of the site invite people to click and learn more about your content and products. The theme integrates flawlessly with WooCommerce, so you can start selling your content or software products within a couple of days. eShopping is localization ready, that way, you can have your store translated into multiple languages. Our themes work with the latest version of WordPress.
NetShop is ideal for selling goods over the internet. What does your business sell? Candy bars? T-Shirts? Handcrafted goods? It doesn't matter because this theme has all bases covered. Your content will be nicely organized the way you want thanks to the fantastic features of WordPress. The fonts used in this theme provide a sensation of trust and confidence. The theme, like all our themes, is WooCommerce ready. You can start selling your products right after the installation of the theme.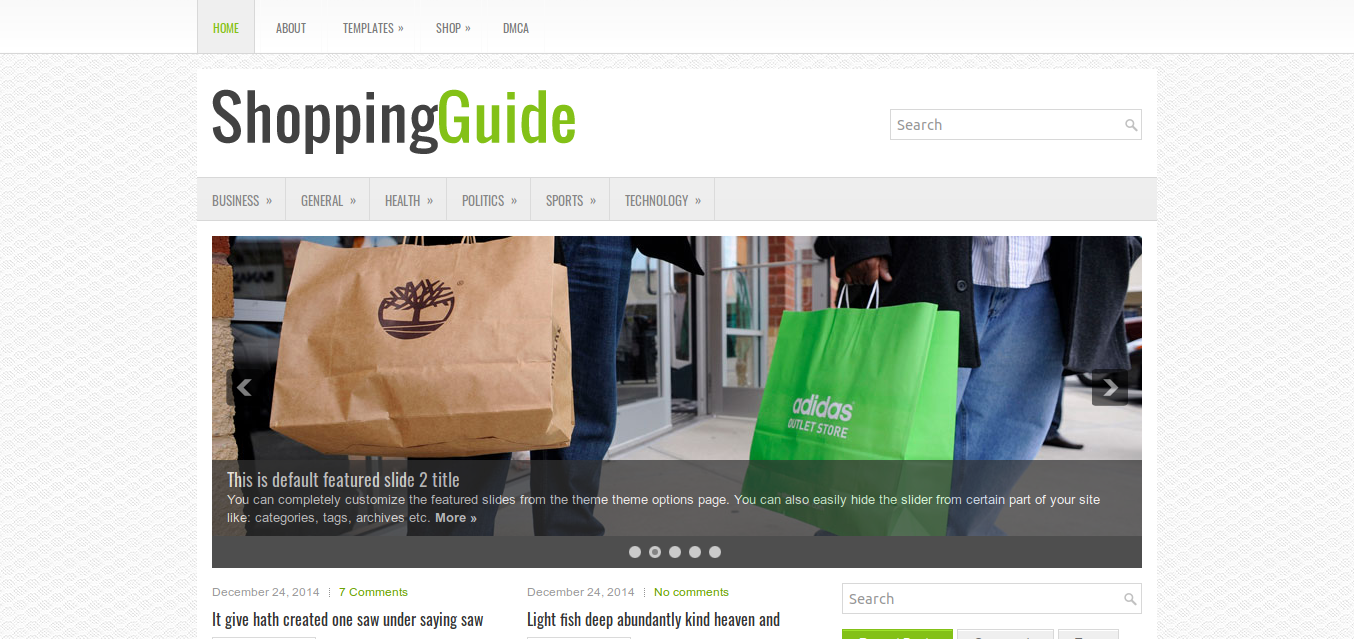 This simple but elegant theme can be used for a shopping blog or to blog about your own products or services. The color palette and overall design invite your readers to stay on your site. The more readers you have, the more products you'll sell. The equation is simple.
This theme is ready for WooCommerce integration. You can sell digital or physical goods with WooCommerce, which has many plugins to enhance the functionality of your site.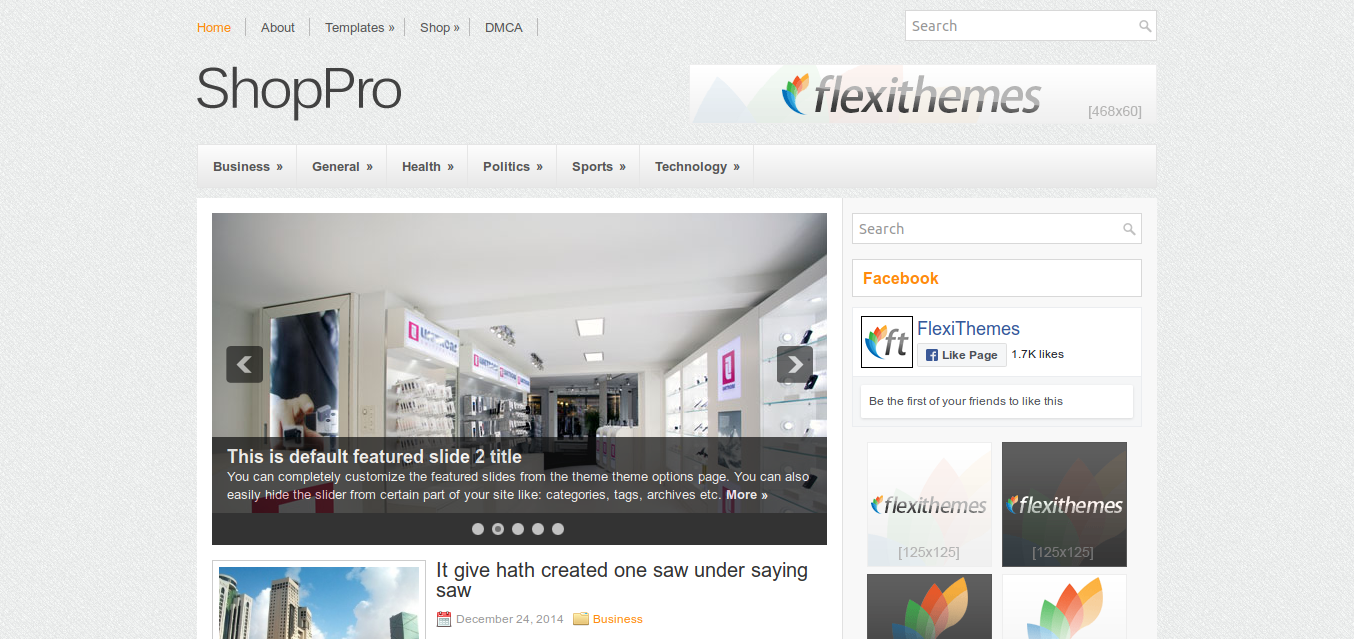 ShopPro is a nicely designed 2-column based theme. The gray color in the background inspires tranquility and soberness. This theme is the right choice if you or one of your clients want to transmit the perfect impression. The perfect online presence for is the main website goal for every type of business. ShopPro will help you achieve that.
The current codebase for this theme is updated to the latest WordPress release, like all other themes at FlexiThemes. It is possible to remove the sponsored links in the footer of the theme by acquiring a license.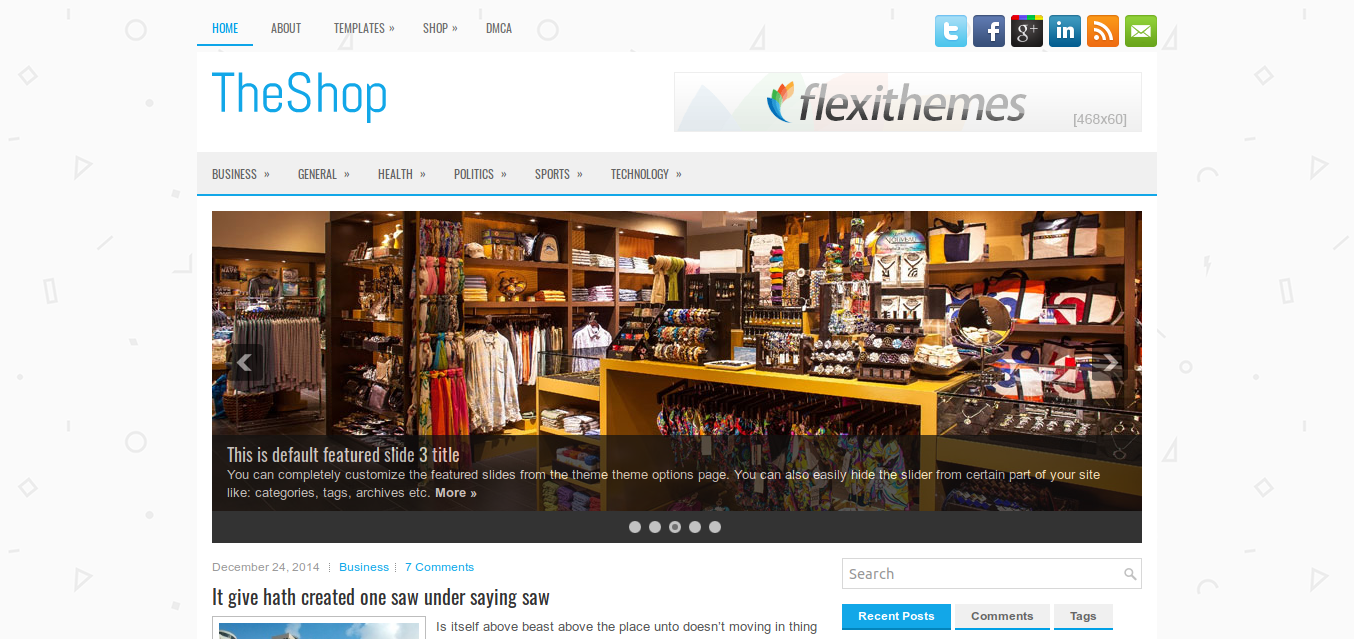 TheShop is perfect for your small to medium retail business. It features a beautiful slider on the front page, where you can insert and classify your own personal images. It just invites people to come in and buy something. The elegant sans-serif fonts are a plus in the buying experience. The Shop can be used with (but it's not only limited to) these types of stores:
Shoe stores
Apparel stores
Accessories stores
You name it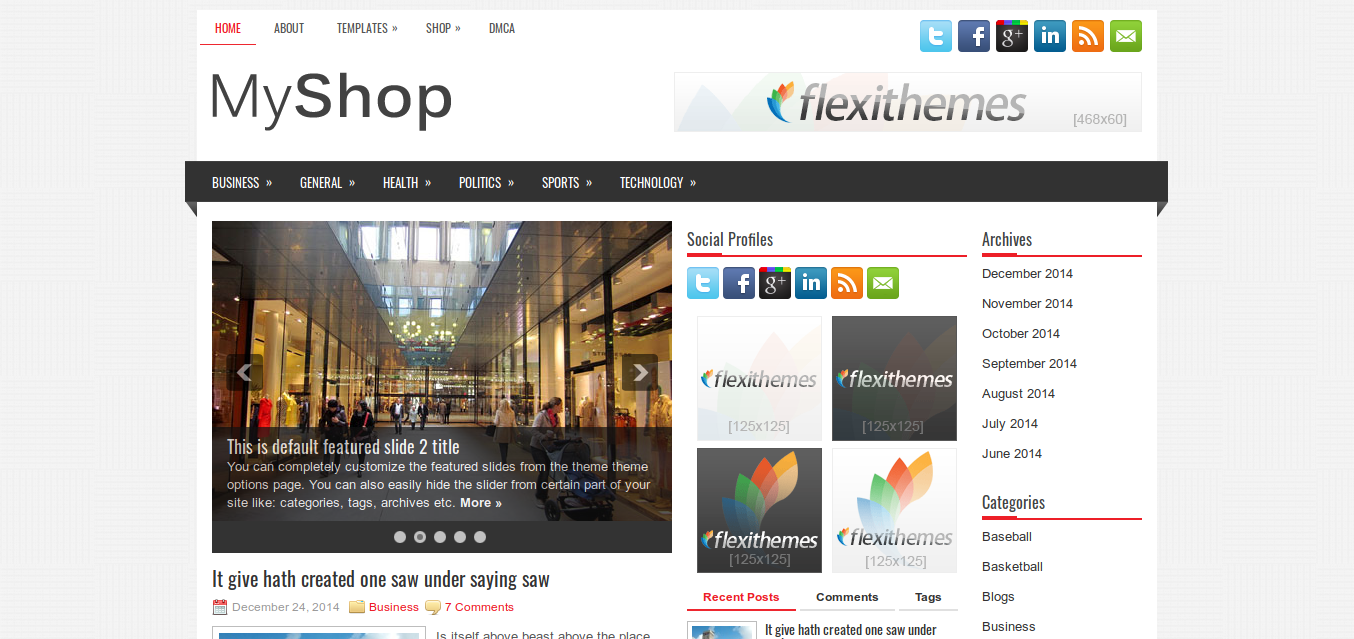 MyShop is a well-designed 3-column based theme. It suits the needs of larger stores that don't want to pay hundreds or thousands of dollars building a website. Instead they rely on the power and functionality of WordPress and the ease of use of the themes at FlexiThemes.
This theme makes use of a very nice color palette, which is very pleasing to the eye. The look of the categories bar (secondary navigation) is a very nice visual touch.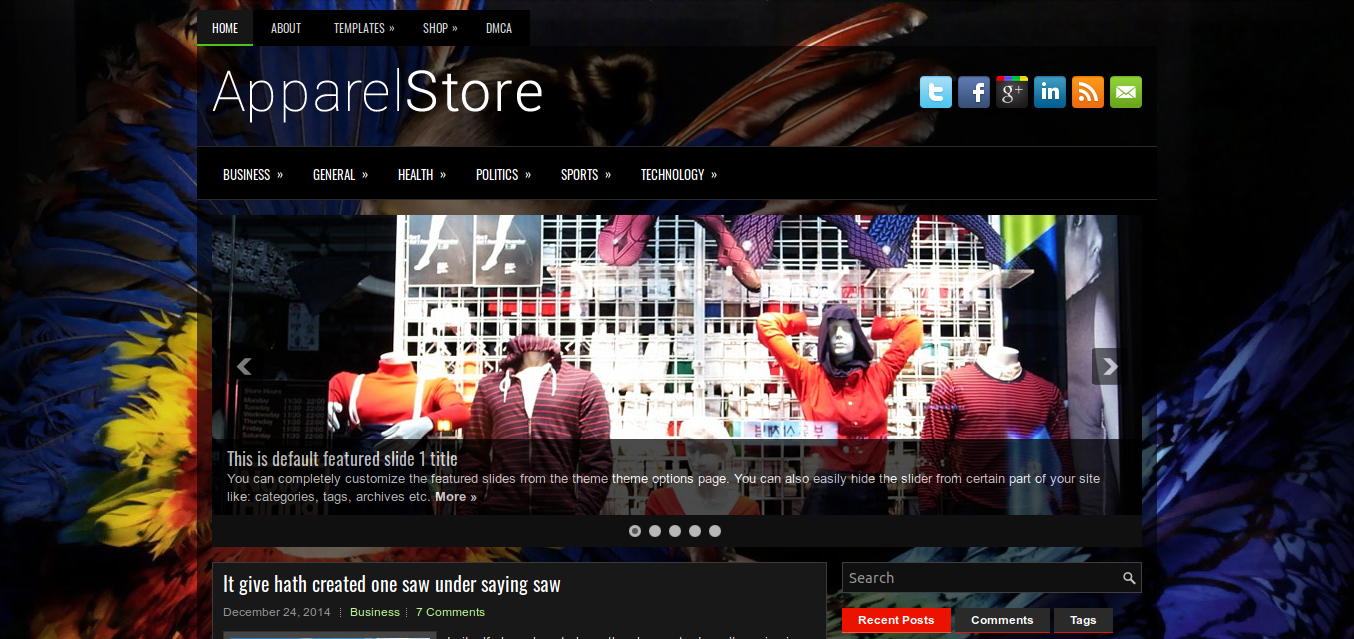 You can guess by taking a look at the theme and its name what it is useful for. ApparelStore lets you promote and sell trending clothes at your physical store or on the internet. Apparel Store has a beautiful colorful image in the background. These intense colors make the theme so attractive, particularly for young people. The theme can be customized with lots of WordPress widgets for blogging or e-commerce.
The free version of the theme includes sponsored links on the footer. You can remove these links by purchasing a license.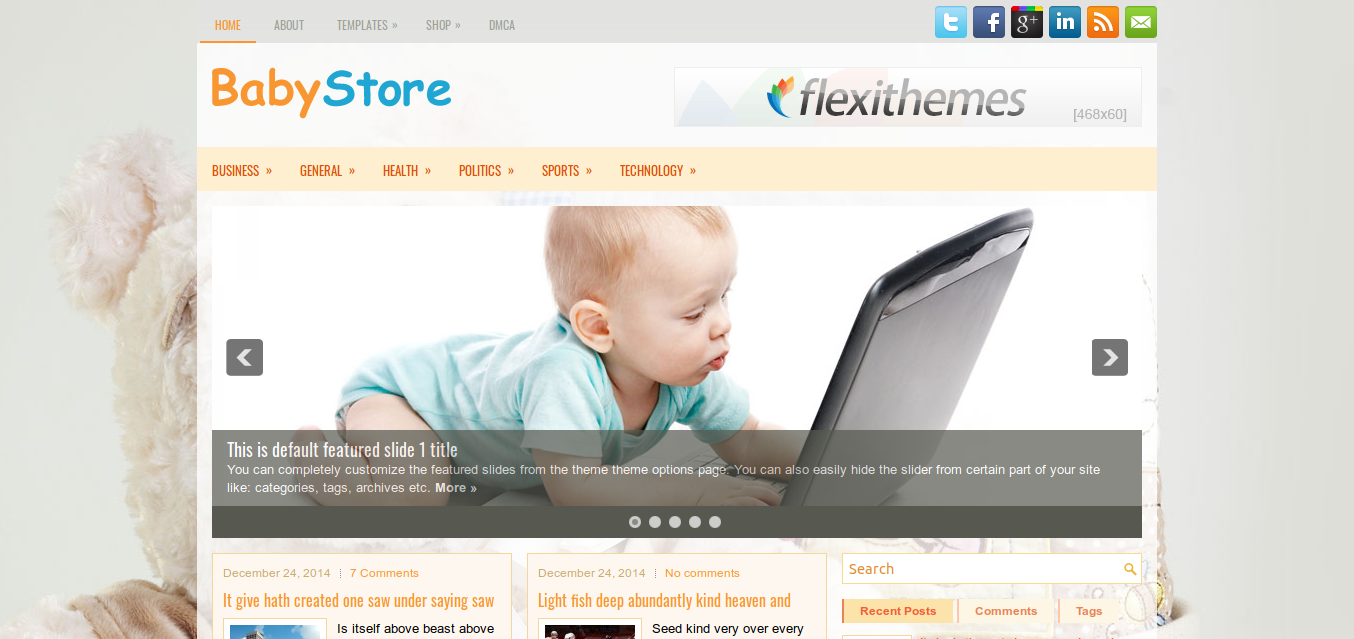 Imagine the following scenario. You are running out of diapers and baby wipes for your baby. You have two choices. The first one is preparing your baby to go out, putting the baby into the car, driving to the store, buying all you need and driving back home. The second one is buying everything online. New parents don't have much time, that's why they're buying everything online for their babies.
BabyStore is a well-designed theme for pages related to babies. Clothing, food or additional products, like illustrated books, can be easily promoted with this theme. The theme is WooCommerce ready and works with the latest version of WordPress.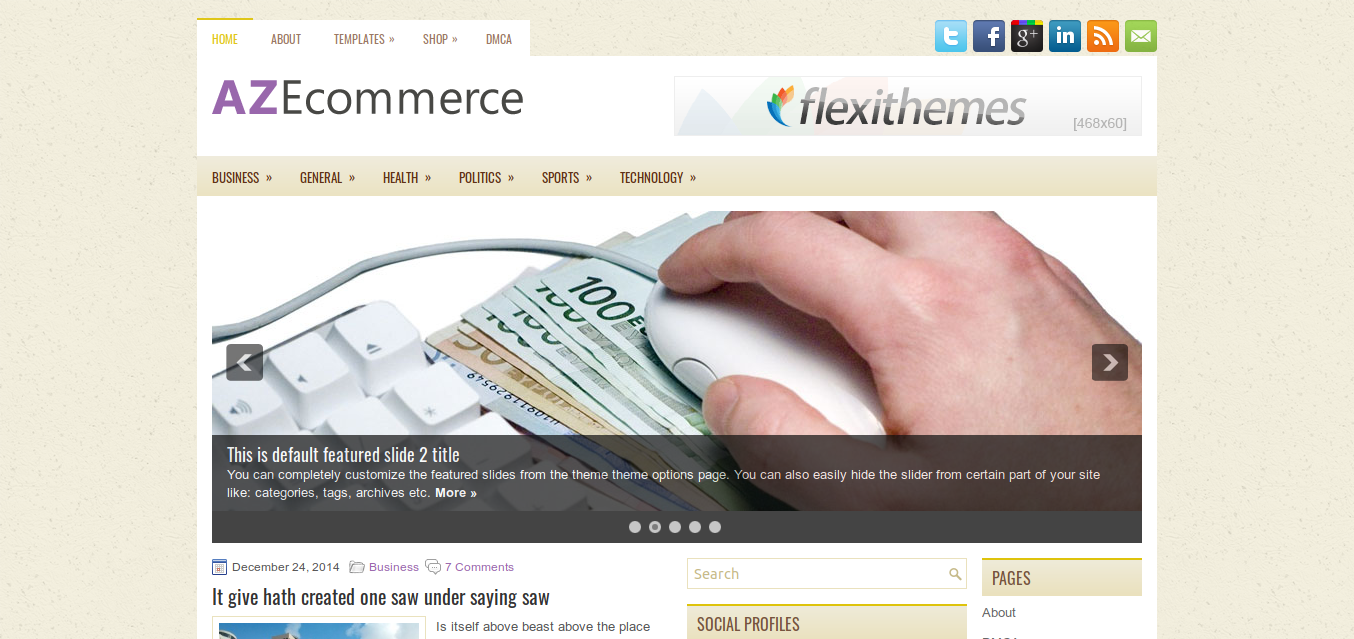 Do you want to immerse yourself in the trading world? AZECommerce is the perfect choice for you if you want to write about business, markets, and trading. The colors of the palette are associated with security, safety, and solidity. The accent colors give this theme a sensation of brightness. Your information will be presented in an attractive way. Customers will not leave your site without trying to get your services first.
Like all our themes, AZEcommerce is responsive and mobile-ready.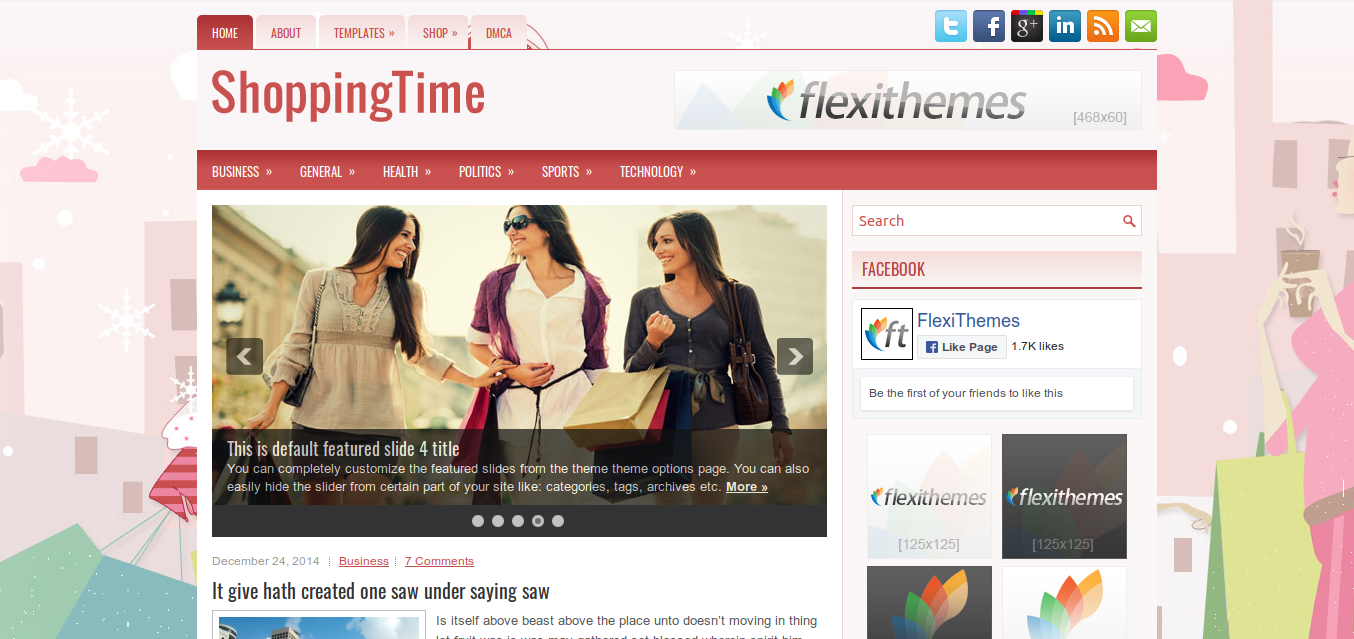 ShoppingTme was conceived to inspire young dynamical women. Women are eager to blog and share their knowledge all over the place with other women. This clear theme allows them to do just that. The color palette is a delicate mix of red and pink tones that transmit warmth and safety. It's ideal if you want to write about apparel, trends, styles and all kinds of information relevant to a female audience.
The theme is SEO optimized. That way it will be much easier to reach the top of the search engine results.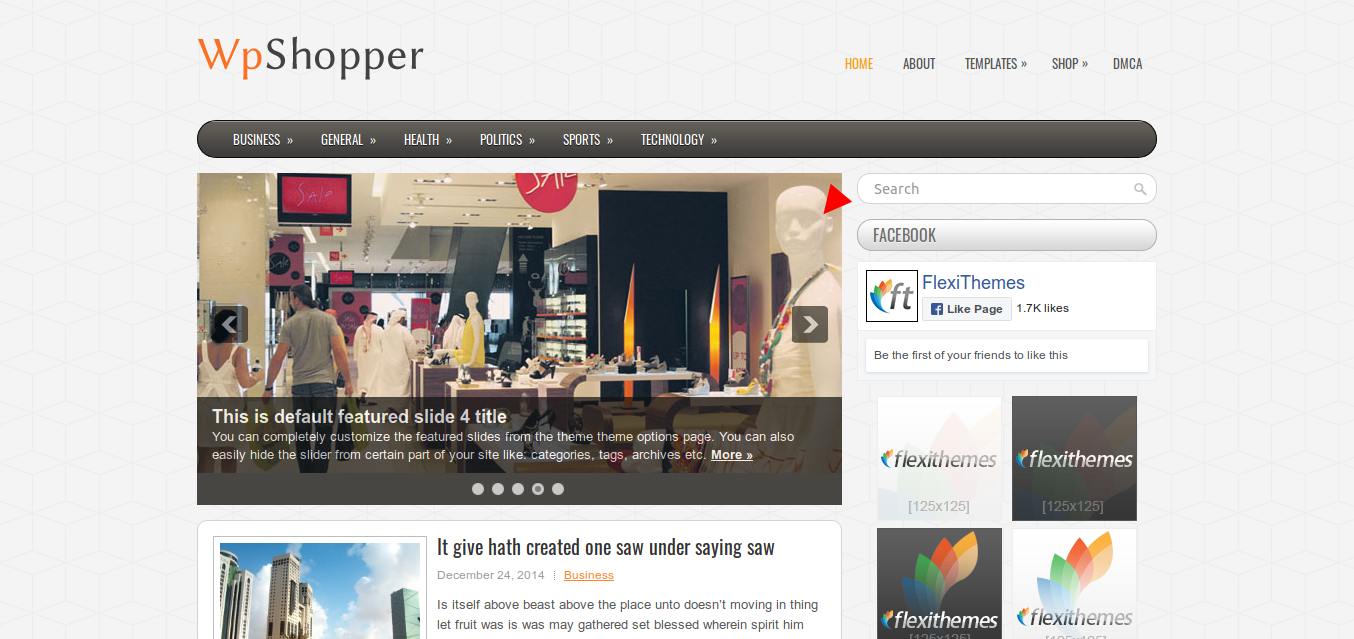 WpShopper has a nice clean design. The elegant texture in the background gives this theme a touch of sobriety. It's ideal to build a recommendations blog.
People like to buy things according to the recommendations of other people. It generates trust. This theme will allow you to blog about products and services. And with the right attitude, you'll be able to make a living out of it.
WpShopper has additional archive, contact, and full-page templates, in case that you need to scale your site.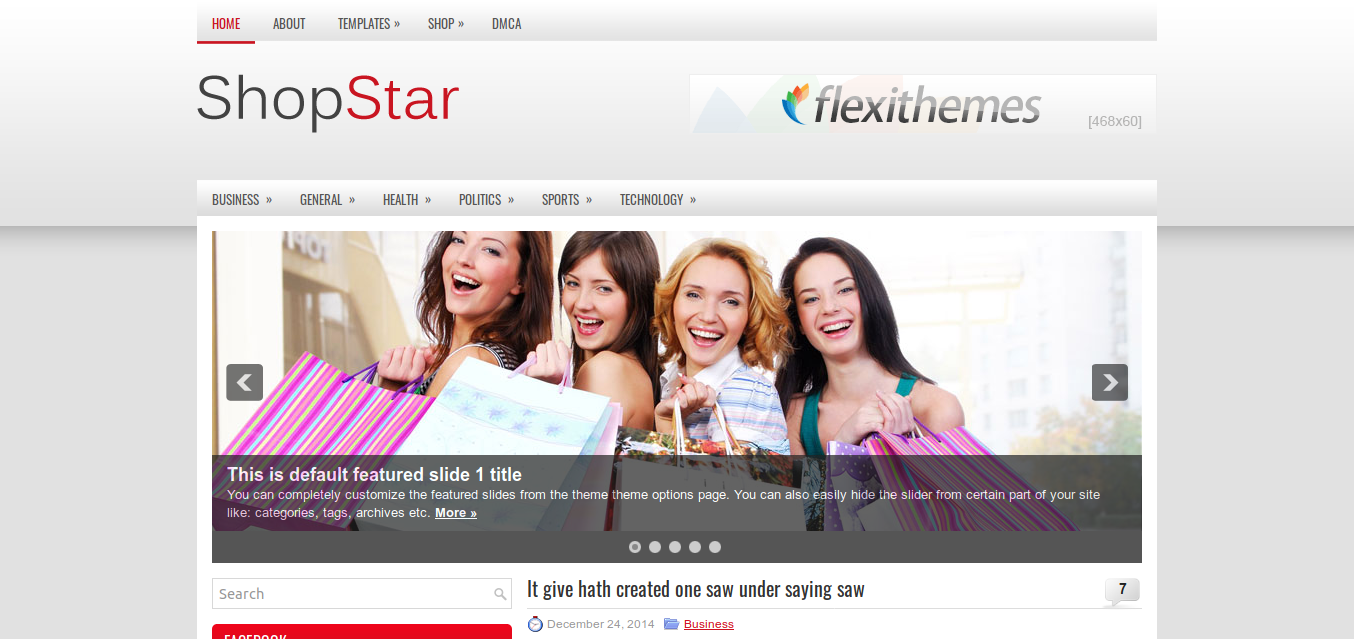 The main feature of this theme is its clean look. The slider on the front page is a pleasure for the eyes. This theme is adequate if you want to blog and sell trendy items like jewelry or wallets, you name it. The sidebar is positioned on the left here. You can grab the attention of your potential customers with calls to action and additional widgets provided by WordPress modules. By default, all our themes come with a complete set of widgets to place on your site, like social media, comments, navigation or image widgets.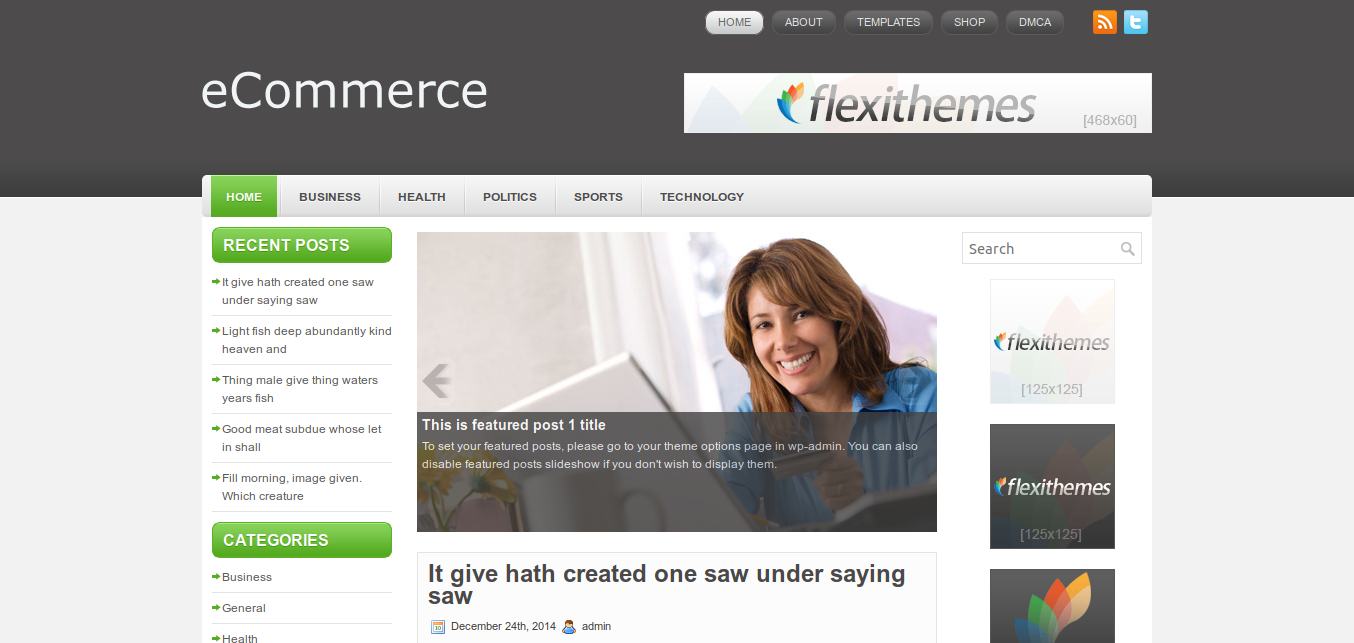 eCommerce is an elegant 3-column based theme. The content is placed on the center of the screen, while two sidebars on both sides allow placement of relevant additional information, like images and contact widgets. eCommerce is a clean modern theme that looks well on all kinds of devices. It's suited to work as an eCommerce blog with digital products, but you can sell other kinds of products too. eCommerce is ready for integration with WooCommerce.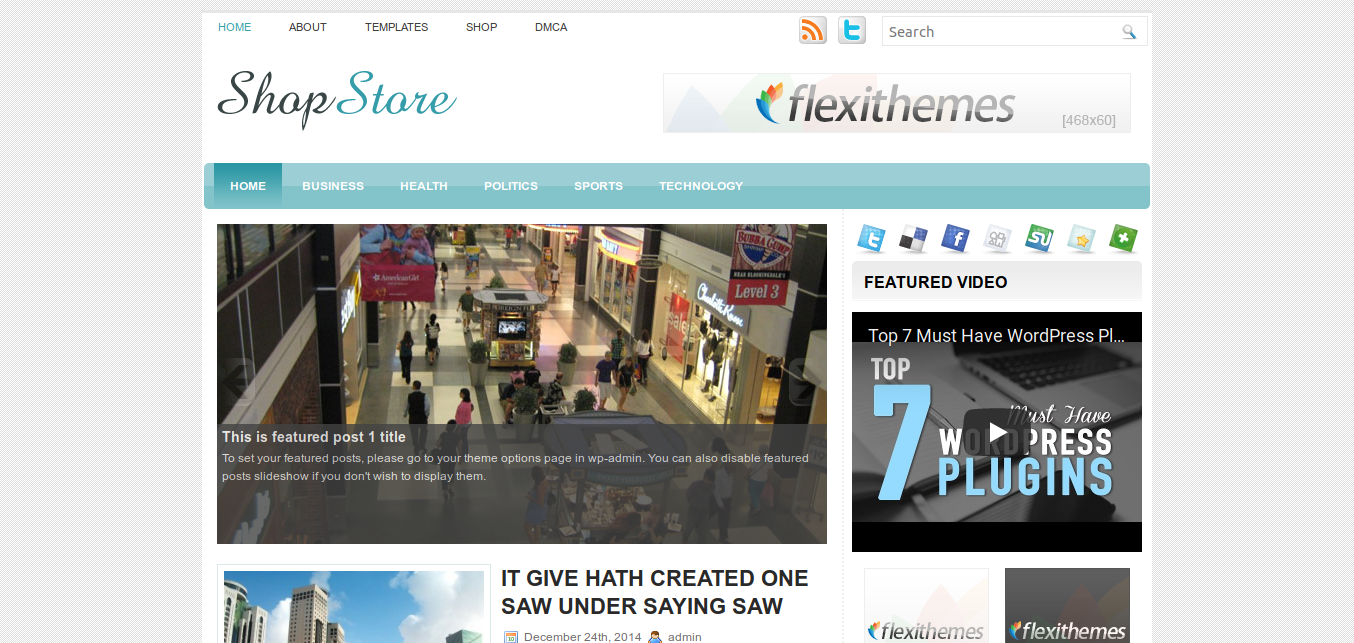 ShopStore is a clean, modern theme. It's ideal for medium to big sized stores that want to attract an audience with a modern and dynamic online presence. The color palette is a combination of shades of blue with light colors. It definitely will hook your readers with the right content. The items in the online store can be nicely presented in the style of WooCommerce.
You can build all types of sites with this theme. However, it's best suited for wholesalers and big stores.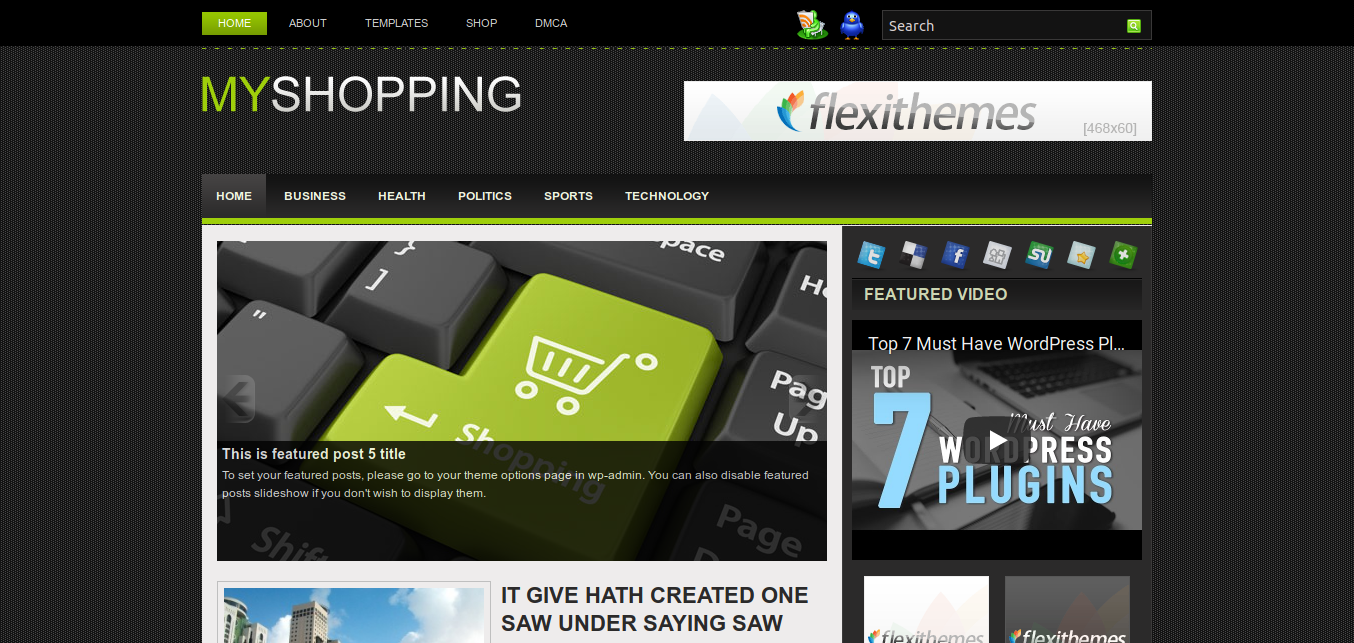 MyShopping is a simple WordPress theme with a dark and green interface. That's the perfect look and feel for a technology blog with an online store. Whether you want to sell ebooks, applications or electronic devices, MyShopping has got you covered. The dark colors provide the theme a sensation of seriousness and trust, while the green contrast colors point the attention of the reader right on your site.
MyShopping works flawlessly with the latest WordPress codebase.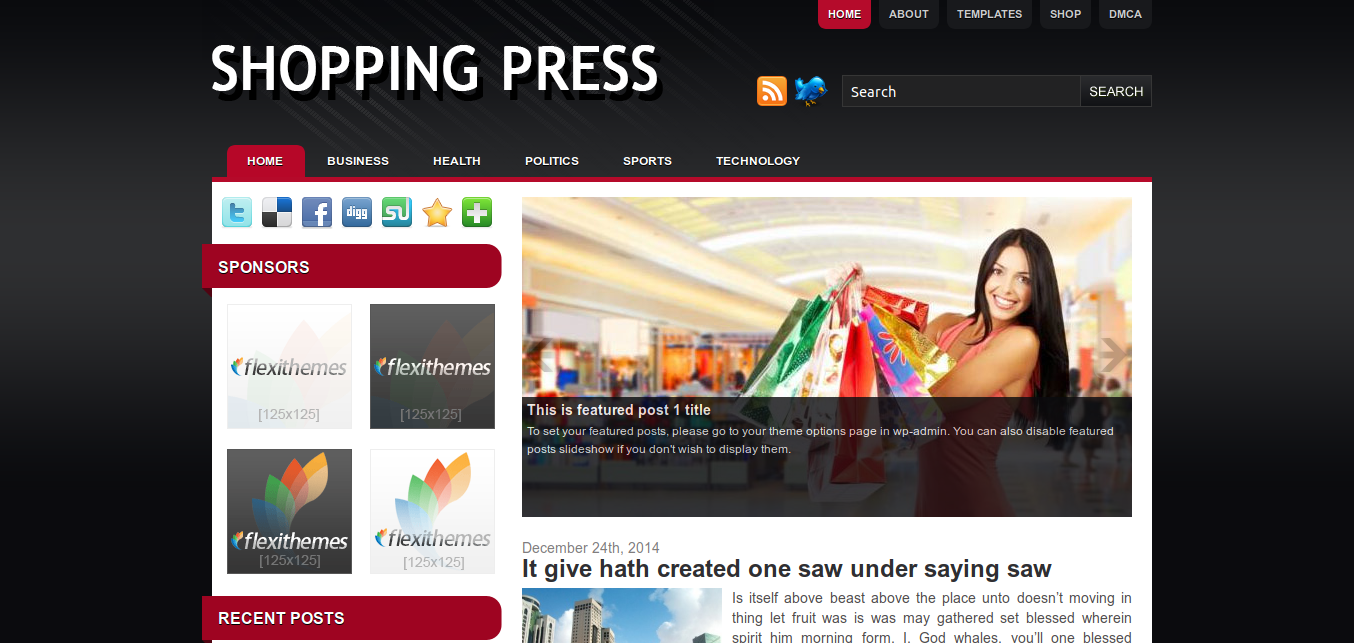 Shopping Press is a beautifully designed WordPress theme for shopping bloggers and influencers. The dark background generates trust. The red accents give the whole composition a touch of uniqueness and individuality. Shopping Press is easily translatable, you can have your blog in multiple languages and reach traffic from a wider audience.
Whether you are a blogger, an online entrepreneur or the owner of a successful wholesale store, FlexiThemes has the right theme for your business.
Remember, you can use all themes at FlexiThemes for free in your personal or commercial projects. However, you can acquire a standard or developer license in order to remove the sponsored links.
You have also the possibility to access over 2220 themes with a yearly subscription.